Booming job market for BMEs
Wednesday, October 13, 2010
Demand for biomedical engineers is projected to grow a whopping 72% between 2008 and 2018. What other careers on Money and PayScale.com's list of America's best jobs will see big opportunities, and what do hiring managers look for?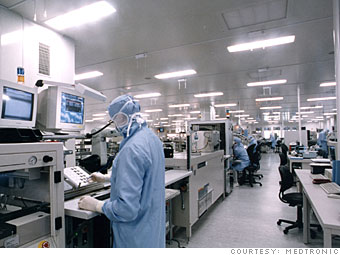 At Medtronic, Biomedical Engineers spend a lot of time in a lab, but their work on new medical technologies improves lives.
10-year growth: 72%
Median pay: $76,000
Although the job is highly technical, the opportunity for biomedical engineers to have a positive impact on society is great.
At Medtronic, for example, biomedical engineers work with doctors and clinicians to come up with new devices to help patients suffering from diabetes, heart disease or other debilitating conditions.
To get a job with the Minneapolis-based company -- which invented the first battery-powered wearable pacemaker -- candidates need more to their resumes than just lab time.
"The people who have stood out are the people who are motivated to help patients," says Mike Hess, Medtronic's vice president of innovation. "There are candidates who have looked for opportunities to volunteer in hospitals or developing parts of the world. It tells me that they are sincere in really wanting to help people. That kind of experience builds your credibility and it builds your skills more than something you can read in a book."
For the complete article visit:   
http://money.cnn.com/galleries/2010/pf/jobs/1010/gallery.best_jobs_job_growth.moneymag/index.html